Early reports
suggest that the New Wave of Swedish Jihad (NWOSJ - © Laban Tall 2010) may be every bit as comically incompetent as the
New Wave of British Jihad
(NWOBJ - © Laban Tall 2007):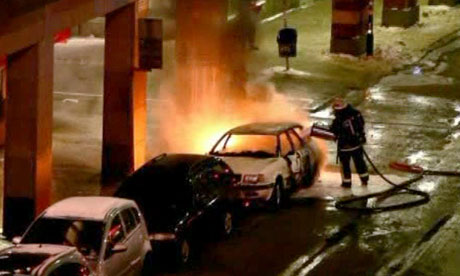 At least one person was killed and two were injured yesterday in two explosions in central Stockholm that caused panic among Christmas shoppers.A Swedish news agency said it had received an email warning, ahead of the explosions, in which a threat made against Sweden and its population was linked to the country's military presence in Afghanistan. The TT agency said the warning, which comprised sound files in Swedish and Arabic, was also sent to Sweden's security police (SAPO) and was received 10 minutes before the blasts. It also referred to caricatures of the prophet Mohammed by Swedish artist Lars Vilks, who became the subject of death threats and at least one assassination plot after cartoons appeared in a Danish newspaper.

The first explosion at around 5pm local time, near the busy shopping street of Drottinggatan in the centre of the Swedish capital, was in a car containing gas canisters. The dead man was found at the site of the second blast about 300 metres away. Sweden's Aftonbladet newspaper reported that the man was carrying pipe bombs, as well as a backpack full of nails, although this was not confirmed by the authorities. "The car exploded with a series of minor explosions and there was also some kind of explosion close to where we found the dead man," Ulf Johansson, a police spokesman, told the BBC. "We need more investigation and of course we need more witnesses to give us the information of what actually has happened."
If it is true that the deceased nail-carrier is an Islamist who appears to have gone off prematurely (always a hazard for a shy young man in liberated Sweden), and that the car bomb was the traditional petrol and gas canister type which failed so dismally to take out any 'dancing slags' in London just before the Glasgow Airport attacks, then the Swedes can at least take confidence from their incompetence - and go back to reading
Stieg Larsson
and worrying about the 'far-right'.